LATEST NEWS
---
THE NEW ANIMATED VIDEO FOR TELEVISION GRAVEYARD IS HERE!:

Entirely hand drawn by Enzo himself this new bold video cronicals the story of "Renegade Zo" a freedom fighter in the oppressive TVG city. Watch it now, comment, share and watch it again to show your support for Enzo and independent music everywhere!
---
ALL OF ENZO SPRIGG'S RELEASES NOW ON SPOTIFY:
​
Great news! Now all of Enzo's current and previous releases are now all on Spotify! Simply click the follow button below to follow Enzo there. Once you do you will be notified whenever new music is released on the day it's released!
"Spotify and other streaming services are very important to me. I find them incredibly useful towards getting my music out to those who want to listen. The streaming platform allows a completely independent artist like myself to stand side by side with big label artists on an even playing field. There the music must stand on it's own merits. It has proven to be a great ally towards helping me find my audience."
-Enzo


Television Graveyard

Plunger Lapin & The Last Rites of Love
---
Watch the current video, "Slick Disaster"
---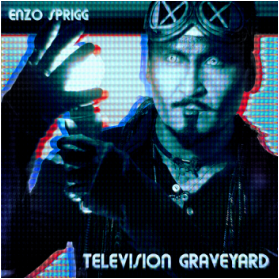 NEW ALBUM OUT NOW:

Enzo's new album entitled "Television Graveyard" fuses synthpop songcraft with a jagged industrial production to give the overall texture of the album a very unique sonic feel. It will be available everywhere on September 3rd, 2015!

"With Television Graveyard I wanted to marry two genres I love equally. I used synthpop as a blue print for my songwriting, making sure the songs were dance-able, had solid singing and were melodically memorable. Conversely I didn't want the feel of the album to sound too sterile. Because of this I chose a more sharp industrial production style in hopes to give the songs more punch and intensity. Now that it's done I'm very happy with how it turned out." -Enzo

*Enzo Sprigg music is available on Itunes, GogglePlay, Amazon, Cdbaby, Bandcamp, Spotify, Groove Music and many, many other online outlets worldwide. Just search "Enzo Sprigg" where you buy or stream music.
---
---
ENZO ON THE RADIO:

In January 2015 Enzo did an on air interview with KUCI 88.9 FM in Irvine, CA. You can listen to it from the soundcloud link on the right. In it he spoke about his musical process, influences and history. 3 tracks from his first album "Plunger Lapin & The Last Rites of Love" were aired as well. Enzo also mentioned plans for the next album and how his first ever music video "Black Rabbit" was created.



​

---
Copyright Enzo Sprigg Music. All Rights Reserved.